Features
Create a customized marketplace experience that works across all modern browsers and devices of all sizes. Plus control multiple settings for flexibility, customization, and design.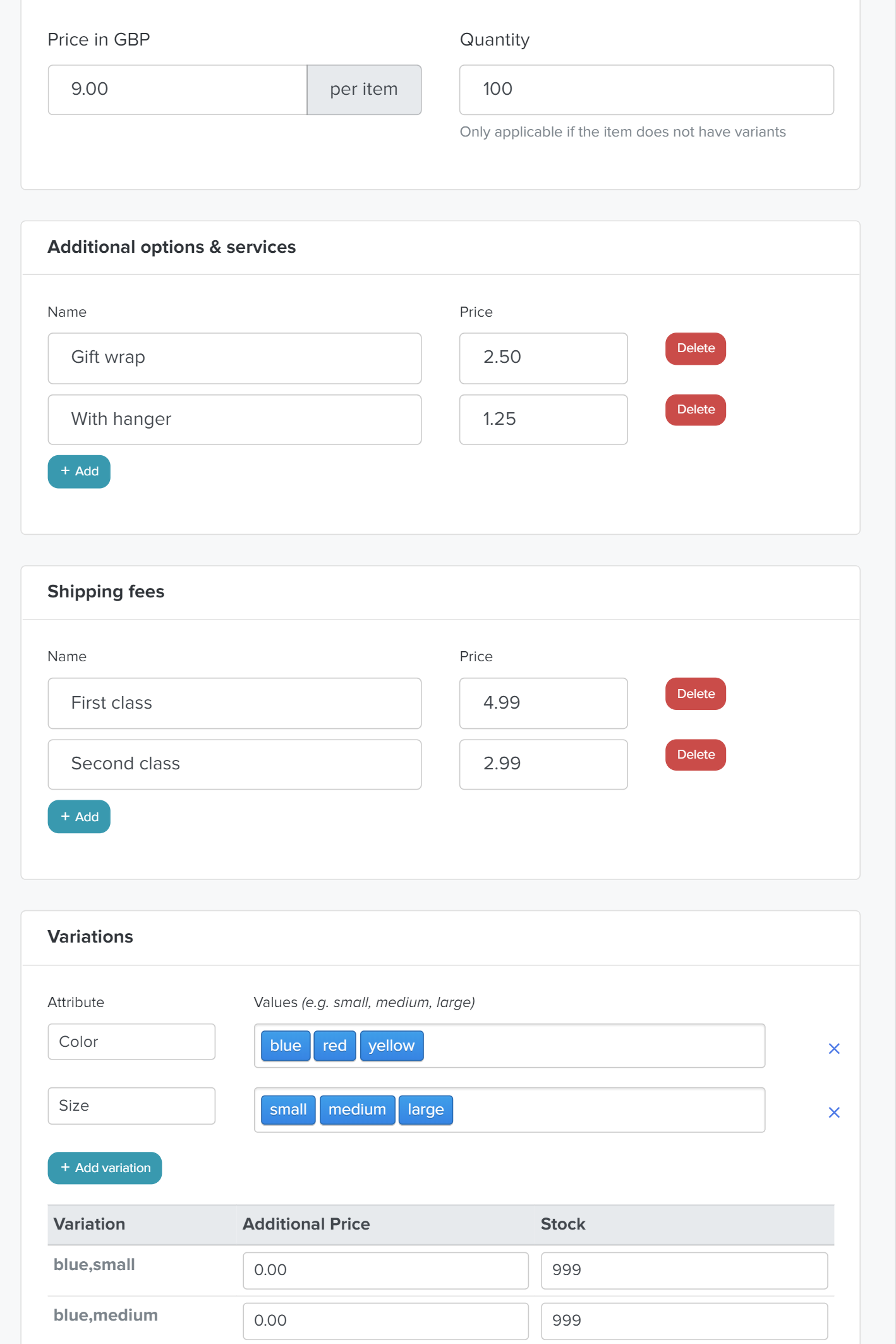 Variants, shipping & extras
You can choose to let sellers list items, variants, add shipping options and additional options such as gift wrapping.
You can also enable variants or shipping options per category. e.g, a "Lawnmowers" may not need variants but "Clothing" would need variants such as size, color etc.
Powerful search
Enter any custom field you want. e.g. bedrooms/bathrooms for houses, or kg for food. Users can filter by any of these fields as well as price, location, distance and category.
Search keywords and tags
The search feature allows users to search words found in the listing title, description or tags
Filtering & custom fields
Users can filter their search results by categories, price and any admin created fields.
Geo-localization
Sellers can set the location of their product. User can filter the area they want to search in and also sort search results by distance.
Connect buyers & sellers
Users can send direct messages to sellers for pre-sale questions or after-sale support. Sellers can also chose to accept or decline an order.
View knowledgebase
Direct messages

Both buyers and sellers have an inbox where they can send an receive direct messages.

Learn More

Hold funds

Sellers can accept or decline orders and return the money to the buyer without your intervention.

Learn More

Order history

Buyers & Sellers can view current orders and also keep track of past orders

Learn More
Other features
Plus MarketplaceKit also includes lots of other features needed by any online marketplace, from social login to user reviews.
Facebook login
Cutting out the registration process increases the chances of users joining and participating in your marketplace.
Payment methods
We've currently added Stripe and Paypal. Let us know of you want to use other payment methods.
Multi-lingual
Create pages in different languages, change any text on your site and add any language you want.
Analytics
Easily add your google analytics code to monitor and measure your marketing efforts.
Ratings & reviews
Buyers can submit a rating and add a review. This gives confidence to other buyers when making their decision.
SEO
You can add your own meta tags and we have an auto-generated sitemap.xml file.
Mobile & responsive
Your website is built for mobiles in mind and works in all modern brows of any size.
Admin panel
And of course you have an admin panel to manage it all - pages, settings, listings.