Multiple types of marketplaces

Sellers can sell their items; rent equipment, space or rooms; list services they provide or simply list something for people to be able to reach out to them.

Build your own AirBnB, Ebay, Etsy or whatever you want.

You, the marketplace owner, can charge members a listing fee, membership fee to post or charge a service fee whenever a customer places an order.

Accept payments in +130 countries

MarketplaceKit uses Stripe to processes credit card, debit card, and ACH (bank transfer). You can charge a service fee/percentage to buyers. Stripe holds the funds and we split it between you and the seller.

You can charge almost any kind of credit or debit card: U.S. businesses can accept Visa, MasterCard, American Express, JCB, Discover, and Diners Club. Australian, Canadian, European, Hong Kongese, Japanese, and Singaporean businesses can accept Visa, MasterCard, and American Express.

100% open-source software

MarketplaceKit is an open source software project. Your marketplace, the database and users will always belong to you. If you choose to host with us, we give you the option of downloading the database at any time. You have full control of the design, theme, HTML and CSS. That's whether we host it for you or you host it yourself.

Download from GitHub
Easy to customize & theme
With Twig templating, Bootstrap 4 and SCSS, it's super easy to customize the template without being a developer. Plus we're working on adding new themes all the time.
Widgets, plugins and custom pricing.
With custom pricing models, widgets and plugins (coming soon) it's super flexible to add new functionality to your marketplace easily.
Multilingual
Everything on the front-end can be translated. MarketplaceKit supports multiple translations, so your users can switch languages by simply clicking a dropdown.
Sell items

e.g. Etsy, Ebay

Sellers can list items, variants of products, add shipping options and additional options such as gift wrapping.

Rent space or equipment

e.g. AirBnB, HomeStay

Owners can list items such as tools, cars, space, lodging and lease it. They can charge per day or per night.

Process bookings

e.g. Handy, Rover, Thumbtrack

Professionals and groups can list the service they provide, e.g. yoga sessions, room cleaning, dog walking, tours & activities. Buyers can select a date and time that suits them.

List anything

e.g. Rightmove, AutoTrader

Ideal for estate agents, car sellers or expensive items that require discussion before making a purchase. Advertisers can list their items and receive messages to their inbox.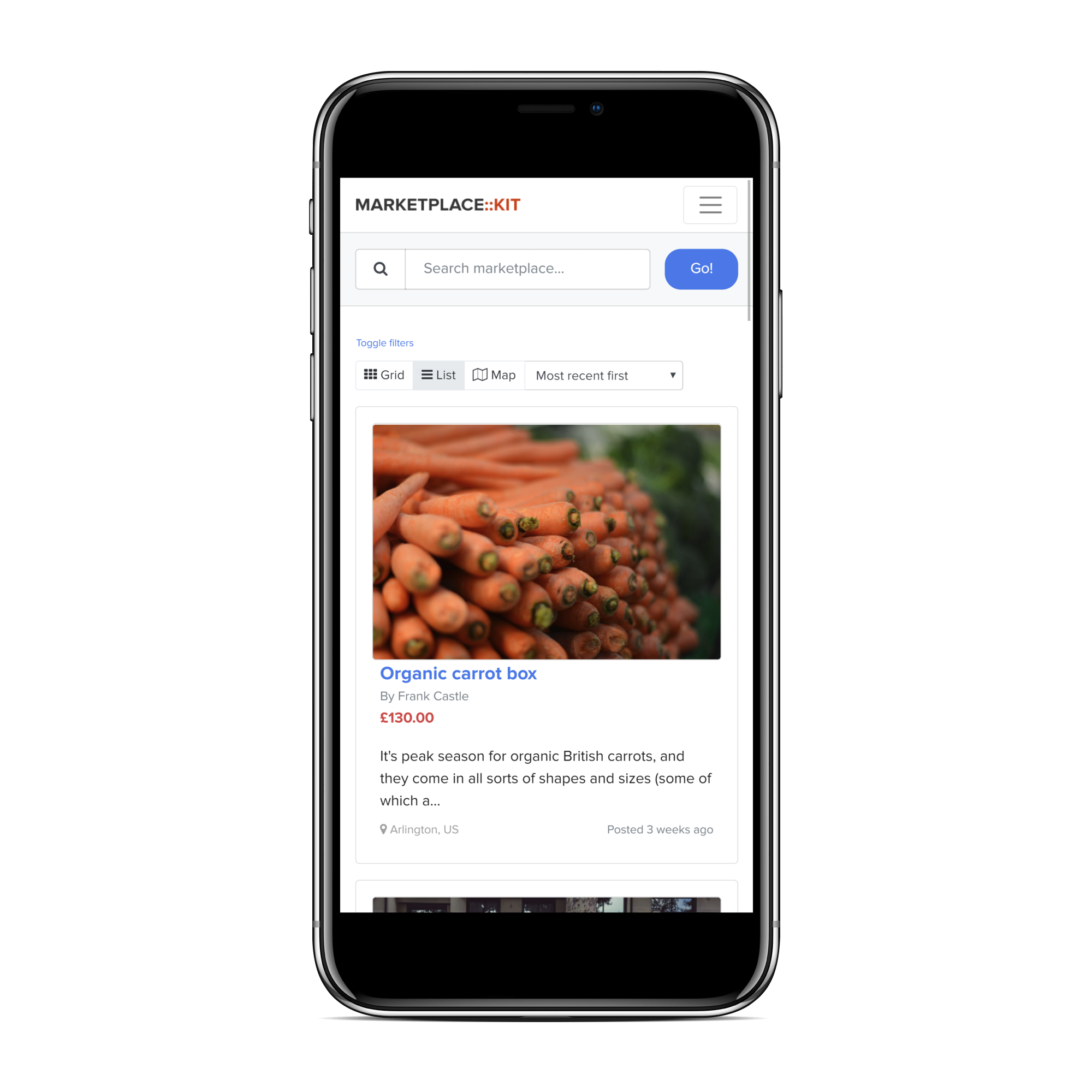 Perfect on desktops or mobiles
Websites built with MarketplaceKit are responsive and look great on mobiles and tablets.
Mobile first
MarketplaceKit is built with Bootstrap 4, the world's most popular front-end component library.
Home page builder
MarketplaceKit comes with a page builder to customize and build your own custom homepage
API to build your iOS & Android apps
Alternatively you can use our API (in-beta) to build your own native mobile apps